| | |
| --- | --- |
| | &nbsp &nbsp uploaded by on 27.12.09 @ 04:08 |
If you own any copyrights to this file and wish it to be removed,
click here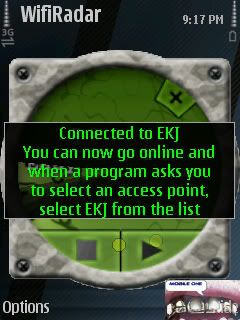 This a really cool app and works well.
Helps you find and connect to available wireless access points

FEATURES - displays nearby access points on a cool animated radar screen - sounds an alarm when an available connection has been found, and displays it on the screen - lists nearby WLAN access point.
MAINSCREEN The main screen shows detected wifi networks. Red dots: closed networks. Yellow dots: undetermined networks. Green dots: Opened networks, or networks with stored password. At startup, all detected networks will be yellow, and after trying one after each other, they will be either green or red.
---
Most recent uploads: