New rumor coming from Germany puts marketing names next to some Android code names - the mysterious HTC Ace for Vodafone Germany will be called Desire HD and the HTC Vision will go by Desire Z.
We don't know all that much about the HTC Ace - it will run Android (likely launch with 2.2 Froyo) and have an aluminum uni-body design like the HTC Legend. There are also rumors that the HTC Ace/Desire HD is a GSM flavored HTC Evo 4G.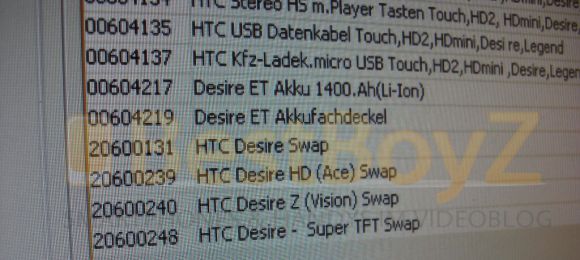 Previously we heard that the QWERTY-enabled HTC Vision will be available on T-Mobile as the G1 Blaze. It's not unusual for the same phone to have different names for the different carriers. And for Vodafone Germany, it seems that name is HTC Desire Z.
Also interesting is that Vodafone Germany is apparently stocking up on HTC Desire phones with S-LCD.
We still don't know much about the release date of the two new Androids, except the old rumor that the HTC Desire HD (Ace) and the HTC Desire Z (Vision) will launch in October. We're also interested to see how good a replacement S-LCD is for the AMOLED screen of the original Desire.