| | |
| --- | --- |
| | &nbsp &nbsp uploaded by on 01.11.09 @ 04:56 |
If you own any copyrights to this file and wish it to be removed,

click here


Do you remember emTube, one of the first YouTube video clients for S60? Well, it's back (after a fashion), in the form of Open Video Hub, available* for S60 3rd Edition and 5th Edition and with additional support for Daily Motion and Metacafe videos. It's also now Open Source, which is great news. The only catch is that, currently, Open Video Hub needs (*)signing for a user's phone - see the screenshots, press release snippet and links below.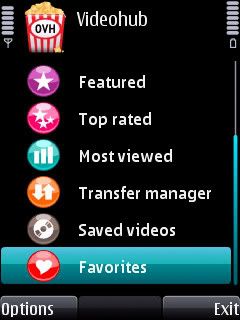 "BLStream, an inspired leader in emerging visual technologies, usability and entertainment on portable devices, announces the release of its first Open Source project, Open Video Hub - a Symbian-based online video player. With support for most popular video sites, powerful and easy-to-use interface, and extensible architecture with additional support for video upload, Open Video Hub enables Symbian-based phones to play, download, store and share videos. Together with source codes, all previously developed plugins were made public, including YouTube, Daily Motion and Metacafe.
Additional features include accelerometer support for auto rotation of video, local caching for offline playback and support for other
video servers, with SDK available for 3rd party developers. More information to be found at www.openvideohub.com, as well as at Symbian Exchange & Exposition in London, October 27-28th, 2009, where the product will be showcased by BLStream's representatives."
Link: Open Video Hub web site for information and downloads
---
Most recent uploads: