| | |
| --- | --- |
| | &nbsp &nbsp uploaded by on 27.12.09 @ 23:08 |
If you own any copyrights to this file and wish it to be removed,
click here
UltimatePortable.Ultimate.Voice.Recorder.v3.01.S60v3.SymbianOS9.1.Incl.Keygen.Patch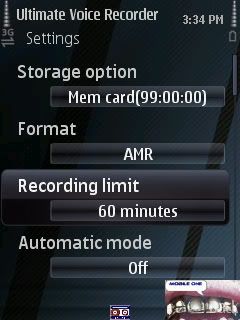 Record voice memo or phone calls anytime by simply pressing hotkeys. Phone calls can be recorded automatically. You can choose to have BEEP or NO BEEP for call recordings.

This application satisfies all your recording needs. It will let you record a voice memo or phone call anytime by simply pressing hotkeys of your own choices. Phone calls can also be recorded automatically based on your choices. You can browse, label, delete and transfer all the recorded memo and phone calls with ease. You can record arbitrarily long memo or conversations. The application will automatically stop recording once the storage space is low on your phone and never will fill up your phone! Hotkeys work anytime, always! Free upgrades of future versions!
The application is a Symbian Signed application backed by the industrial standard Quality Assurance testing procedure.

Major Features:
* Customizable hotkeys to record, play, pause and stop
* Or simply press abc/pen key three times to start/stop recording.
* Or simply press PPT key three times to start/stop recording.
* Or press Up Arrow key/record button three times rapidly to start/stop recording on Nokia E61 and the similar phones with full keyboard.
* No beep recording of phone calls! You can choose to have the beep on or off. Demo version only allows 5 minutes of no-beep call recording. Please be aware that this feature may not work on all firmware versions of phones including Nokia E50 and 5500.
* Support recording in both AMR and WAV formats
* Support recording to phone memory or directly to memory card.
* Optional automatic recording of phone calls
Adjustable maximum recording length.


---
Most recent uploads: